We can all take action to help make our transport system carbon neutral.
We hear about the effect climate change is having on the daily life of people around the world – for example the poor UK commuter.  The numbers are up – approx. 1.6M commute into London alone, up from 800M in 1990 and anyone spending on average in the UK over an hour a day, often each way will tell you that the UK's infrastructure, from dams to railways to roads, is not designed or constructed to cope with the effects of climate change.
Scientists say that global warming is affecting the UK's weather in part because warmer air can hold more water.  The Atlantic has experienced warmer surface temperatures since 1995, causing an increase in low pressure storms and more severe weather.  Intense rainfall, sometimes a month's rain in 24 hours, causes delays and damage to our fragile infrastructure which affects telecommunications signals from radios and satellites and flash flooding that damages roads, bridges, and rails. And just when we do get a respite from the rain during high pressure weather, the intensity of the heat undermines our railways and roads because of the methodologies used to build them.
Our infrastructure can't cope with extreme weather
We see the impact across all modes of transportation and infrastructure.  The correlations are simple, increased rain = reduced visibility = increased travel time = additional carbon emissions.
Ferry crossings are being delayed due to the changing weather patterns. During the weekend of 10th August ferries could not dock at Dover, resulting in up to 5-hour delays and many cancellations. Other ports were also impacted.
The rails are welded to reduce the noise – notice you no longer hear the clackity clack.  Our use of Asphalts that are not designed for +35C leads to more ruts and potholes. We all know how hot the Underground can get during heat waves.  Frequent mechanical and electrical failures cause severe delays and disruption not only on the Underground but across the rail networks.
Unintended consequences of well-intentioned campaigns
I recently learnt of Flight Free UK – a campaign group encouraging people to take a no-fly year in 2020. Domestic passenger numbers fell 10 per cent between 2007 and 2017 to 22.8m, according to CAA figures. By contrast, the number of people flying internationally rose 43 per cent to 229m over the same period – the flights that are worse for carbon emissions.
However, having fallen between 2010 and 2014, the number of direct flights between UK cities is growing again – probably because travel by car and train is not so reliable. Which leads us to ask whether the rail network can cope with a growth in passenger numbers?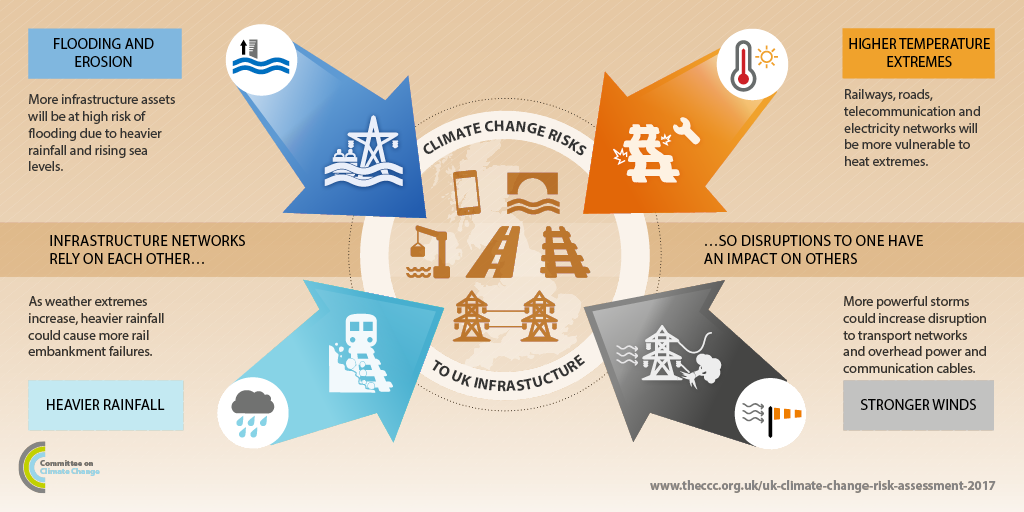 A transport Policy paper published in Feb 2019 by Elsevier highlighted how the impact of extreme weather is exacerbated by the complexity of the rail industry and its interconnected systems, which are often not aligned and are therefore vulnerable. They propose that increased flexibility and agility needs to be built into new developments from the start to help minimise potential disruption of transportation systems that can be caused by external factors, i.e. weather.
What can we do to make things better?
Rail has a unique opportunity to build a reputation as an environmentally sound mode of transport, encouraging the shift from road and flying to rail for both passengers and freight. By showing vision in its use of new technology in particular, railways can attract national and international investment and increase their role in reducing greenhouse gas emissions.
Government needs to lead this change and act as the facilitator by bringing together all the major players in the rail industry with an agenda that is bigger than individual empires and is focused on an integrated transport strategy that keeps the UK moving in a way that is carbon neutral.
Personally, we can all be more aware of the impact of what we do and how we can individually reduce our carbon footprint. Look at how we travel, at what we eat and be more vocal in our desire to provide future generations with a future that looks better than the one we are looking at now.
Is this a 'save the planet' call? Simply YES. Over to you.
Written by Sherman Havens of TenBroeke Engineering.