Lots of talk?  
Thanks to the efforts of Greta Thunberg, amongst others, we're all more aware of the need for each and every one of us to contribute to meeting the challenge of climate change.
As someone who cares passionately about the UK's railways, I undertook a mini-review of what the industry and government are doing – especially as we approach COP26 (1-12 Nov 2021).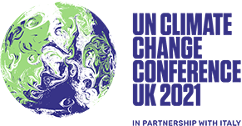 As a reminder, COP26 is the next annual UN climate change conference. COP stands for Conference of the Parties, and the summit will be attended by the countries that signed the United Nations Framework Convention on Climate Change (UNFCCC) – a treaty that came into force in 1994 with the objective to "stabilize greenhouse gas concentrations in the atmosphere at a level that would prevent dangerous anthropogenic (human induced) interference with the climate system."
Of the four goals of COP, the first is over-arching, 'Secure global net zero by mid-century and keep 1.5 degrees within reach', and with "countries are being asked to come forward with ambitious 2030 emissions reductions targets that align with reaching net zero by the middle of the century".
COP states that 'To deliver on these stretching targets, countries will need to accelerate the phase-out of coal, curtail deforestation, speed up the switch to electric vehicles and encourage investment in renewables.' To help achieve this, one part of the principles that particularly resonates states – 'At COP26 we must: finalise the Paris Rulebook (the detailed rules that make the Paris Agreement operational) accelerate action to tackle the climate crisis through collaboration between governments, businesses and civil society.'
Aspirational goals, so what did I learn from my rail review?
Rail usage impacted by Covid-19 lockdown
Unsurprisingly, passenger rail usage continues to be affected by the pandemic. A total of 388m rail passenger journeys were made in Great Britain in 2020-21. This equates to 22.3% of 1,739m journeys made in 2019-20 and is the lowest level of annual usage since before the time series began in 1872. Passenger revenue totalled £1.9b in 2020-21, which equates to 18.3% of the £10.4b generated in 2019-20. There were 80m journeys made during 2020-21 Q4, down from the 139m journeys made in the previous quarter but still more than double the 35m journeys made in 2020-21 Q1.
Estimates of UK greenhouse gas emissions lag behind these figures, the most recent being 2018 when transport was the largest emitting sector. Disappointingly, transport emissions were only 3% lower than in 1990, as increased road traffic has largely offset improvements in vehicle fuel efficiency. The figures by sector were – transport 28% (rail1.4%), energy supply 23%, business 18%, residential 15%, agriculture 10%, waste management 5%, other 2%.
The main source of emissions from the sector is the use of petrol and diesel in road transport,
but 10% of all passenger kilometres were made using rail with rail emissions accounting for 0.5% of the UK's total CO2 emissions. Source: Office of Rail & Road, report on Rail Emission 2019/20 – published Nov 2020.
Of course, these figures don't tell us the impact on carbon emissions of the lockdown. We can be reasonably confident they will be lower; however, it may turn out to be a short lived trend – in April, close to 230,000 new passenger cars were registered in Germany, which is 90% more than a year ago, with some commentators suggesting that many Germans are more comfortable going back to the office in their cars than sharing public transport.
Looking at this a different way, one study stated that, in general terms, a train uses up to 70% less energy and causes up to 85% less air pollution than a jet aircraft…and the greenhouse effect of gas emissions per kilometer on railway transport is 80% less than car. Aircraft taking off and landing use a great deal of fuel, producing extremely high emissions of CO2 per passenger; short 1-hour flights have the greatest environmental impact. Put another way, according to an article from the Manchester Metropolitan University…trains are one of the most environmentally-friendly forms of mass transport available, releasing 0.046kg of carbon dioxide per kilometre each passenger travels. A diesel car is more than double that at 0.117kg.
Interestingly. plug-in electric car sales are enjoying tremendous growth. Last month, over 50,800 were registered, which is almost 5-times more than a year ago. The market share improved to 22.1%, which is the sixth result above 20% in a row and is more than one per five new cars. But then one has to wonder about how the electricity to power these cars is being generated.
Yet the focus on reducing train emissions is huge, almost disproportionate to its impact, through strong media interest. The challenge is that making changes in rail is not achievable in the short-term and needs considerable investment planning.
Decarbonising Britain's railways
Cars are typically only in service for 10 years or so, while trains carry on for 40 or even 50 years so trains built today will only be in "mid-life' by 2050. This means that zero-carbon trains need to be ordered and delivered from 2025 onwards to stay on track with this timeline of decarbonisation. Currently the only trains that could meet these criteria are electric, but only 42% of track in the UK is electrified (with trains that release no carbon emissions) and 29% of Britain's current fleet is run solely on diesel fuel – which will need to be re-engineered or scrapped before they get to the end of their useful life to meet government targets.
But, as with electric cars, they are only as green as the electricity grid that powers them and which still accounts for roughly half of all energy generated in the UK.
Diesel trains are more versatile as they can work on the almost 60% of lines that aren't electrified and the portion that is. Diesel power can also transport exceptionally heavy loads and so is often used in the freight sector. But the UK has been unable to order new diesel freight locomotives since 2008, because none of the current rolling stock comply with the set emission standards. This has effectively forced the freight sector to use rather elderly locomotives – some from as early as the 1950s – that are more polluting.
The rail industry will need to eliminate diesel power before 2040 as the fuel becomes increasingly expensive and unacceptable to the public, especially given stations trap train emissions, threatening the health of passengers and staff. Hence, without improvements to the current rail rolling stock, as well as track and platforms, emissions could remain static.
Alternate responses
A new term I'm hearing is 'Eco Travel by Train'. A leader in this market is The Train Chartering Company Ltd which offers chartering trains and organising group rail travel.

As Simon Pielow from Train Chartering said, "Although everyone knows that air travel is polluting, comparing the resulting emissions with those of a train is startling! How can any environment-aware organisations use aircraft for charters and groups travelling between cities that are linked by an efficient rail service? Government and indeed the rail industry should do more to promote train travel as a greener alternative to flying."
In a growing niche market, Train Chartering is optimistic about the future. To quote their website, 'With the overwhelming majority of FTSE 100 companies already undertaking carbon reporting, chartering private trains or carriages for group travel not only presents economic and logistical benefits but also environmental reporting benefits. For companies committing to reducing carbon emissions and reporting on pollution, train travel can be an important contributing factor delivering real savings.'
Rail companies around the world are responding to the challenge and, as an example, in New South Wales, Australia, the rail service has launched a number of key initiatives:
Newer trains are equipped with regenerative braking capability, whereby the traction motors act as generators when braking to save electricity.
Participation in the Federal Government's Energy Efficiency Opportunities Program, to assess energy usage across its operations to identify opportunities for greater efficiency.
Undertaking trials of energy efficient LED lighting and photo-voltaic technology at some stations.
Considering energy and greenhouse requirements, in addition to other Ecologically Sustainable Development principles, in our business planning and procurement processes.
Participating in global climate change initiatives such as Earth Hour.
Installation of water tanks at selected stations and depots
The promotion of water saving initiatives to the community.
Action is needed across the UK rail industry
On 16 June 2021, the independent Climate Change Committee published an alarming report through the Adaptation Committee's Independent Assessment of UK Climate Risk which sets out the priority climate change risks and opportunities for the UK. The key conclusion is that we are a country under increasing economic and environmental pressure, with strains on energy supplies, homes, infrastructure and the natural environment, and we are not ready for imminent major changes our environment.
For the rail industry, this is critical. More extreme weather events present greater risks to track, bridges, tunnels, earthworks, buildings, trains, together with the energy, IT and communications systems, and the people who use and work on the railway.
On 12 August 2020, a passenger train derailed at Carmont near Stonehaven, killing three people, as a result of very heavy rainfall, which had washed debris on to the track. Although the full report from RAIB is yet to be published, it seems clear that the changing climate and the occurrence of extreme weather is a key root cause.

The RSSB – the Rail Safety and Standards Board, established in April 2003, in response to recommendations made by Lord Cullen in the report of the second part of the public inquiry into the Ladbroke Grove accident, is a not-for-profit company owned by major industry stakeholders.
A recent article written by George Davies, Director of Sustainable Development, RSSB and Ali Chegini, Director of System Safety and Health, RSSB, used the above report to highlight two specific initiatives it is focusing on which play to the theme of this article – "developing the new Sustainable Rail Strategy on behalf of the industry. This will equip the industry with a coherent, unified framework for sustainability; in response to passenger, community and government expectations." and "developing new architecture and capability to analyse data from a wide range of sources and generate safety insights. This will support industry decision making and provide the direction for risk management activities in the context of earthworks and extreme weather".
New technology alternatives are coming but are not cheap
There is clearly a lot to be done and one aspect is 'well-to-wheel' analysis (also known as life cycle assessment 'LCA'), is the assessment of the environmental impact of a given product or service throughout its lifespan. The goal of LCA is to compare the environmental performance of products and services, to be able to choose the least burdensome one.
Two routes being pursued are hydrogen and battery, both riddled with LCA challenges.
Hydrogen
Innovation in trains is accelerating, with hydrogen considered one of the possible answers. Hydrogen fuel cells can generate sustainable electricity through a chemical reaction between hydrogen and oxygen. This can power homes, offices, factories, cars and public transport – making them carbon-free and independent from the main power grid. Instead of a tank of diesel and an engine, the train has a tank of hydrogen and a fuel cell that combines the hydrogen with oxygen from the air, without combustion. With the only emission being water, the fuel cells provide power and have zero emissions.
Sounds good but, as a power source, hydrogen has low energy density, meaning trains would need a very large space to store the fuel. To compare, a litre of diesel contains 36 megajoules of energy but a litre of hydrogen has only 1.81 megajoules. This isn't a problem for a light car, but a major issue when one massive locomotive has to pull 40 wagons – and each wagon weighs up to 80 tonnes.
The world's first hydrogen train ran in Germany in September, 2018. Two bright blue Coradia iLint trains, built by French TGV-maker Alstom, began running a 100-kilometer (62-mile) route between the towns and cities of Cuxhaven, Bremerhaven, Bremervoerde and Buxtehude in northern Germany – a stretch normally plied by polluting diesel trains.
"The world's first hydrogen train is entering into commercial service and is ready for serial production," Alstom CEO Henri Poupart-Lafarge said at an unveiling ceremony in Bremervoerde, the station where the trains will be refueled with hydrogen. The Coradia iLint trains can run for around 1,000 kilometers on a single tank of hydrogen, similar to the range of diesel trains.
Alstom is betting on the technology as a greener, quieter alternative to diesel on non-electrified railway lines – an attractive prospect to many German cities scrambling to combat air pollution.
"Sure, buying a hydrogen train is somewhat more expensive than a diesel train, but it is cheaper to run," said Stefan Schrank, the project's manager at Alstom.
In September 2020, ÖBB, the Austrian Federal Railways, said a hydrogen-powered train would commence a passenger service trial in southern areas of Lower Austria. Built by Alstom, the Coradia iLint harnesses fuel-cell technology to turn oxygen and hydrogen into electricity. According to the company, it can reach speeds of up to 140 kilometers per hour, is low-noise and "emits only steam and water", and has already carried passengers in parts of Germany and underwent ten days of testing on a 65 kilometer stretch of railway in the Netherlands. In France, the government has already said it wants the first hydrogen train to be on the rails by 2022.
What is also encouraging is that UK trials of hydrogen-powered trains took place in September 2020, with an initial journey successfully completed between Long Marston and Evesham in the West Midlands.
The HydroFLEX train — which has been developed by a team from the University of Birmingham and Porterbrook, a rolling stock firm — uses a fuel-cell which combines hydrogen and oxygen to generate electricity, heat and water. The train has been fitted with a range of kit inside one of its carriages. This tech includes a hydrogen fuel tank, a fuel-cell and lithium ion batteries for storage. It's hoped that the technology will be available to retrofit trains already in use by 2023.
It doesn't help that no facilities exist in the UK to make or deploy large quantities of hydrogen. Still, it's reasonable to expect that this could be resolved over the next ten years as the government and businesses race to produce the fuels of the future.
Battery
Using batteries as a train's power source has been tested in Germany at low speed and with light loads, using traditional lead acid batteries. It's a tried and tested technology, so it's cheap and reliable, but to date the batteries have a limited life and are made with corrosive liquids and precious materials. Lithium-ion batteries have been tried in the UK by providing an additional power source for the electric motor on a train. Unfortunately, these could only travel up to 50km once separated from overhead wires. Battery trains can only work on specific routes and aren't easily replaced when they fail, causing disruption and delays.
An article published in Railtech.com in September 2020 focused on the fact that two-thirds of the UK's railway network is non-electrified and this could mean high demand for battery-powered trains.
Hitachi Rail has estimated the potential of the British market at more than 400 vehicles of which it could equip 275 trains, both intercity and metro, with battery packs in the coming years. To achieve this goal, the rolling stock manufacturer has joined forces with Hyperdrive Innovation, the British manufacturer of batteries. The two companies manufacturing facilities are located close to each other in County Durham and Sunderland respectively.
Hitachi has already developed its own battery-powered train for the Japanese rail market. It is known as the BEC819 series or DENCHA and were introduced in October 2016. 18 two-carriage trainsets were built with installed batteries and run with a wire-free range of 50 kilometres on the Fukuhoku Yutaka Line and Chikuhō Main Line on the island of Kyushu. In 2007, Hitachi Rail also fitted a hybrid test train – known as a Class 43 HST – with batteries that ran over 100,000 kilometres.
"Cost and weight reduction of batteries continues to accelerate, while power density increases. The ease of integration on trains means the range and recharging of battery trains will only improve and meet the demands of different profiles of rail journeys. At the moment, battery trains have approximately 50 per cent lower lifecycle costs than hydrogen trains, making battery the cheapest and cleanest alternative zero-emission traction solution for trains," the company stated.
Further announcements mean that long distance trains could run on battery power for the first time in the UK with Hitachi Rail announcing that 36 intercity express trains used on Great Western Railway services between London Paddington and Penzance, Cornwall. This line is only partially electrified, with the majority of the 300 mile route requiring diesel power. The trains are bi-modes, which switch between electric and diesel power, and could be powered by a combination of batteries, electricity and diesel. Using battery power at the route's non-electrified stations will reduce fuel consumption by more than 20%, improve air quality and reduce noise levels. Testing is expected to begin in 2022.
Nissan's new "gigafactory" in Sunderland, will be the largest of its kind in the UK producing 100,000 or so lithium-ion batteries a year which will go straight into new all-electric models of the Leaf, as well as a hybrid version of the Qashqai and the Juke. The question then arises, as to whether Nissan could adapt its technology to produce batteries for the rail industry?
Rail leadership in the UK?
  The Rail Forum Midlands has produced a summary of the Williams-Shapps Plan for Rail (published May 2021) and identified 3 points particularly relevant to this article:
So, if nothing else, the plan confirms the commitment to new technology and hopefully ensures it will become embedded and encourage an increasingly open-minded and agile approach to its use.
Last, but not least, I'll end by looking at Network Rail, an organisation that is not known for having an agile culture that drives innovation.
In October 2020, Network Rail announced that it had become the first railway company in the world to set the most ambitious Science-Based Targets to limit global warming. The targets – and the plans to achieve them – were independently verified and the company will be the first railway to commit to cutting emissions which limit warming to 1.5 degrees Celsius – below the 2 degrees scientists declared necessary to meet the Paris Agreement.
Chief Executive Andrew Haines said:
"Rail is already the cleanest and greenest mode of transporting large numbers of people and goods, but we're committed to cutting our carbon footprint even further. That's why we've set carbon reduction targets backed by science rather than simply ones we think are easy to achieve. We are the first railway in the world to set targets that will help limit global warming to 1.5 degrees and this shows our commitment to change."
"We're on an important journey – to support the government's target of being net-zero by 2050, to help the country build back better as we recover from the pandemic and to help passengers and freight users make the greenest choices they can."
Network Rail has identified key actions to reduce its greenhouse gas emissions:
All of the energy used to power its stations, depots and offices comes from renewable sources
A trial to move its road fleet – such as the vans needed in rail maintenance work – to electric vehicles is in process
Review of how it can use its land to generate renewable electricity as well as support biodiversity
Extensive community tree planting scheme
Work with its supply chain (which accounts for around two-thirds of the railway's emissions) to help them set their own targets
Transport secretary Grant Shapps said:
"Rail is one of the greenest forms of transport going and these ambitious targets will keep the UK as a world leader in low carbon travel. The objective is clear – every step of every journey, from entering the station to travelling by train, will be more environmentally friendly."
Overhauling the most polluting aspects of the UK's rail system won't happen overnight, but to get on track for 2040 and beyond, big decisions about Britain's railways need to be made now. Coming back to the beginning, actually quite a lot of progress is being made. Now it's down to all of us to keep the pressure on these organisations and help accelerate our progress towards achieving net zero 2050.