Protect employees, contractors and passengers using PP-L health technology solutions – UV-C kills 35,000 viruses and bacterial infections, including Covid-19.
Covid-19 has caused major disruption and loss of revenue and reputation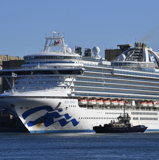 The cruise shipping industry has faced criticism for the way it has handled its response to the pandemic. At times, it was seen as a breeding ground for infection and failing to put in place health and safety measures to protect its crew and passengers.
The Princess Cruises' Diamond Princess ship which hosted nearly 3,800 people, wasn't allowed to dock when one of its passengers tested positive for Covid-19. It was put under quarantine by the Japanese Health Authority in February in an almost month-long offshore lockdown, during which over 700 people were infected and 14 died.
Diamond Princess was only one of many ships bounced from port to port, unable to dock and disembark while trapping passengers on a floating hotbed for the virus. With travel bans being enforced across the world and the US Centres Disease Control and Prevention (CDC) releasing a 'no-sail' order for cruise ships, global operators have faced booking cancellations, plummeting revenues and a damaged reputation.
Cruise ships are highly vulnerable environments for the spread of diseases
"Cruise ship travel markedly increases the risk and impact of the Covid-19 disease outbreak within the US"

Source: report by the US Centres Disease Control and Prevention (CDC), May 2020
Plus, with the Foreign and Commonwealth Office (FCO) recently telling all tourist to avoid travelling on cruise ships, the industry must now focus on re-building trust with passengers and crews. It has to take action to meet the expectations of passengers over health and sanitation procedures. This means bringing in experts in medical services, public health and sanitation and, in particular, we propose, in HVAC and sterilization technology solutions.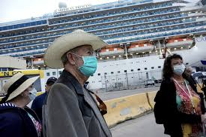 "[There is] a genuine problem of infection control on cruise vessels which carry large volumes of tourists who can easily pass viruses and bacteria on to each other,"

Professor Helen Sampson from Cardiff University's Seafarers International Research Centre.
TenBroeke & PP-L – delivering proven technology that kills Covid-19 and keeps employees safe
We have operated for many years in the passenger shipping industry, delivering projects in the UK, Europe and Asia. For ferries, this covers ferry and port companies based in or operating routes to/ from the UK, within the Baltic, the Mediterranean and in south-east Asia.
Today, we believe it is important for the passenger shipping industry to demonstrate that it is doing all it can to keep passenger's safe from Covid-19 and restore trust in ferry and cruise liner services.
We have recently formed a strategic partnership with Pathogen Prevention Ltd (PP-L)– a Health Technology specialist in solutions that kill bacteria, micro-organisms, coronaviruses and deadly pathogens in the air, on surfaces and in liquids.
TenBroekeCo Ltd is the sole agent in the Passenger Shipping industry for PP-L which utilises sterilisation technology designed and manufactured in Switzerland for over 80 years and proven to kill 99.99% of all pathogens. We provide advisory services to design a tailor-made solution for each client's environment and oversee the supply, install and maintenance of the UV-C equipment. Critically, the PP-L system can be used to undertake deep cleaning and air filtration without reducing revenue earning services.
Together, we will help you to create a safer working environment to protect your staff, passengers and crew working in the cruise and ferry sector from Covid-19, as well as any similar future viruses that might arise further down the line.
Protect today, future-proof for tomorrow.
PP-L – high quality products that meet compliance regulations
Fast tracked onto the British Government's Coronavirus (Covid-19) response group of key suppliers compiled by the Crown Commercial Service under the Medical Services category due to our UV-C products and their Germicidal capabilities
CE marked for conformity and compliance with all relevant European Laws and Regulations
FDA approved in the USA
The only disinfection systems manufacturer to be ISO 9001 & ISO 14001 certified
Typical cost of £1 per hour for an average office

Terminal buildings and office accommodation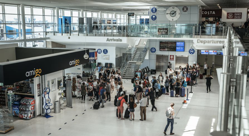 Crowded buildings are a perfect environment for the propagation of microbial hazards. With crews and passengers closely packed into waiting, check-in and recreation areas and with low air circulation, the transmission of microbes through breathing another person's infected exhaled air or touching a contaminated surface such as a seat or table is likely. Undisturbed air could allow harmful microbes to linger for up to 3 hours.
So, without effective air and surface sterilisation, viruses will continue to pose a serious threat to crews, passengers and staff in terminal buildings and offices.
However, with a PP-L solution installed, air can be sterilised through HVAC vents. Surfaces can be cleaned through light treatment once a workspace, cabin or recreation room is empty so as to prevent the spread of infection and mitigate the risk of disease transmission. This will leave crews and passengers feeling safe and at ease when offshore, transiting through a terminal building or onboard.
Ferries and cruise vessels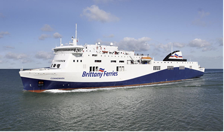 Both the ferry sector and the cruise sector have to manage foot passengers with baggage through terminal buildings, look after them onboard and have a daily interchange of passengers. For ferries this is the standard drop-off and pick-up of travellers; cruise ships typically arrange a morning arrival to allow passengers to enjoy a day trip in a destination port, plus a turnaround call for the passenger interchange. In both cases, the opportunity for infections to be brought on board are obvious.
The staple mode of passenger handling for ferries is in cars, which offers easier Covid control in port. However, once onboard passengers must leave their cars on the car deck and move into the passenger areas, usually via a congested lift or stairway. Climbing stairs requires exertion, which makes passing on of Covid-19 more likely.
In cruise ships and ferries, whilst onboard facilities are more spacious, the air conditioning and recycling is important because of the significant potential transmission risk with many people using them every day, randomly touching surfaces and breathing recycled air. The key areas of concern are, lifts and stairs, onboard catering facilities, washrooms, pubs/bars, retail outlets and all onboard entertainment facilities – all of which have surface areas and less air flow.
All these areas, and particularly cabins and passageways, need to be cleaned and sterilised daily using PP-L technology which can also be deployed in key working areas such as bridges, control and engine rooms, using motion sensors and timers to ensure that passengers and crew workers are fully protected. Additionally, air can be continuously sterilised throughout the day via HVAC systems with PP-L installations in place.
PP-L UV-C solutions disinfect the air and surfaces without interrupting passenger services and thereby enabling revenue generation.
Products
Surface Disinfection
The PP-L products use UV-C to ensure constant hygienic disinfection of surfaces. Note: direct UV-C will only be used while rooms are unoccupied by humans. Hence, work surfaces are specifically treated at agreed times and during passenger interchanges with strategically located overhead UV-C lighting, making the rooms safe and sterilized and ready for usage.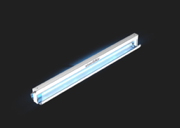 Ventilation & Air Conditioning
The PP-L UV-C disinfection systems for air and surfaces destroy germs 24/7, eradicating viruses even before surfaces can be colonized, and ensuring consistent quality of air over the entire working day as people enter the room they are utilising.
The UV-C disinfection significantly reduces the number of germs in the supply and recirculation of air through installation modules in air ducts and air-conditioning centres
Installation and add-on modules for evaporators ensure hygienic surfaces and cooling fans, combined with room air disinfection
The Coil Disinfection System uses high-output UV-C lamps in close proximity to the cooling coil and drain pan within the AHU of an HVAC system to eradicate biofilm and prevent its regrowth. It can be fitted to new or existing AHUs (Air Handler Unit) in a matter of hours and the ducting system will be cleaner as a direct result of the UVGI disinfecting the airstream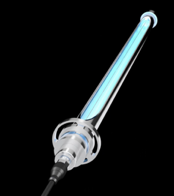 Water Disinfection
The various possibilities of UV-C disinfection in water result from different designs.
Flow reactors are installed in pipelines designed for certain volume flows and are particularly suitable for disinfection of cooling towers, hot and cold water systems and bore holes
In hot water systems, immersion heaters are used to combat bio-films, combined with effective water treatment in the tank. If the water quality is very poor, PP-L UV-C emitters, thanks to their non-contact design and thin treatment layers, offer water treatment for industrial process water. Our water UV-C emitters are made of the highest quality materials, are reliable and easy to integrate into systems for the safe disinfection of service and drinking water
Wall & Ceiling Units
PP-L wall and ceiling units protect product stored in cold rooms, and people starting their day at work, server rooms and warehouses.
Optional supply of a removable protective cover
The system is made entirely of corrosion-resistant materials, while the casing in which the electronics are housed is made of brushed stainless steel.
Special tubes are available for cold, wet and dry rooms.
Due to the open distribution UV tubes, the standard system can only be used in rooms with minimal personnel frequency and UV-C-resistant materials. The power control reduces the system's UV-C emissions to a prescribed non-critical value whenever movement is detected in the room.
For night-time use with no personnel frequency
Indoor air and surface disinfection in unoccupied spaces
Easy to install and service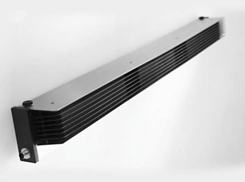 Fixed and mobile products
Parcels, stethoscopes, face masks, mobile phones, tablets etc. can be effectively cleaned of viruses and germs in disinfection chambers.
Two minutes of 240 mJ/cm² UV-C being delivered is a value which kills everything of viral and bacterial origin even in tissue or on rough surfaces. Sluices or entire rooms can be equipped with UV-C to disinfect incoming or outgoing goods.
Swiss quality products
Each unit hand assembled and double checked with calibrated equipment
In-house developed electronic parts
2 year warranty
Lifespan warranty on tubes: 12,000 (75%) or 18,000 ignitions
Error ratio <0.1% on tubes (incoming), outgoing 0% due to in-house double-checking
Most energy efficient systems on the market
For more information, contact:
Tel: 07738 544703